Featured Clients
Below we list some of our clients we have done web development for. It has been a great pleasure working with all of them!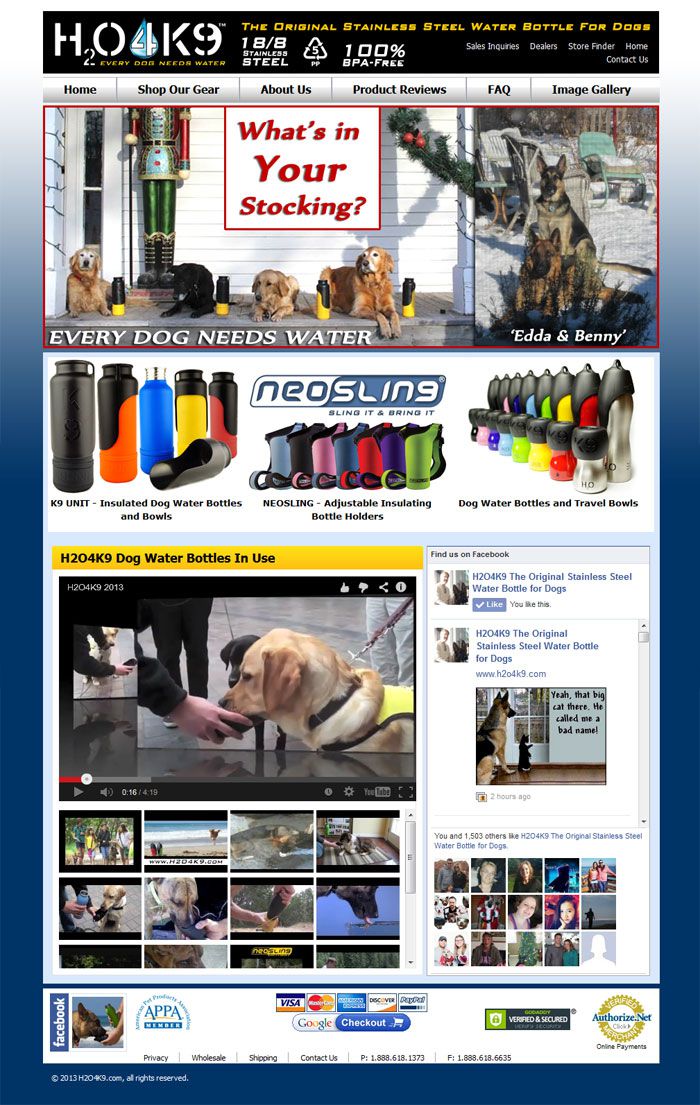 H2O4K9 has created a unique stainless steel dog water bottle that is a perfect traveling container for hiking, camping, taking walks, or even road trips. They have been featured in numerous magazines, editorials, and on television including ABC's Good Morning America. They offer multiple sized dog bottles, and also offer a NEOSLING insulated adjustable bottle holder carrier to make it easy to take your dog bottle with you. Their products are sold online and in stores all around the world.
We have done web development work for H2O4K9 since the beginning of 2010. Over the years we have done all sorts of tasks from styling new pages based on their existing design, installing or creating new modules within their Magento back-end, and creating scripts/programs that interface with 3rd party fulfilment APIs to help automate the shipping of orders placed via their website. When H204K9 was featured on Good Morning America they warned us that an incredible amount of traffic would be visiting in a short period of time. We prepared H2O4K9 by moving them to a temporary dedicated server, optimized landing pages, and doing server performance load testing with Apache JMeter and Siege. We were able to simulate the estimated amount of traffic that would be coming in to make sure that the website would stay online. In the end we were able to create the right configuration that was able to handle the traffic they received when they were featured on the Good Morning America segment.
Overall H2O4k9 has been a great client to work with, and we enjoy some of the challenging work they throw our way. We look forward to working and growing with them for many years to come.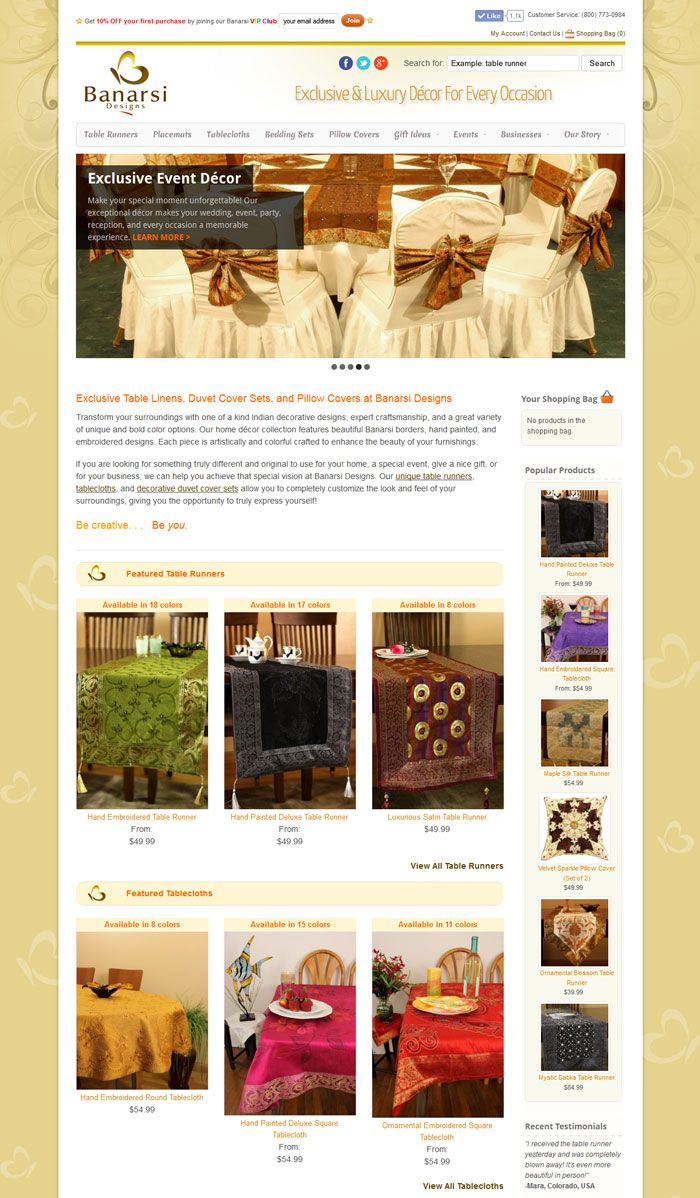 Banarsi Designs offers exclusive and luxury décor for every occasion, many of which is hand embroidered and hand painted. They have a wide selection of products including table linens, tissue box covers, duvet cover sets, and pillow covers and their customers seem to love their products! Not only are their products great to make your home more inviting, but they are perfect for events like weddings, bridal showers, and birthday parties. Also great for businesses, especially restarants and hotels!
In the last few years we have helped Banarsi Designs develop their website into the format they wanted altering their style by changing colors, adding in elements, and fixing bugs with their current setup. We also added additional features on their individual product pages such as colored swatches and made it so that it is easy for a customer to choose a color and have the screenshots updated, and the pulldown menu for selection all changed with a single click. Since their platform is based on WordPress, they have added many additional modules, some of which we have further customized to offer all the features Banarsi Designs needed. We have helped them redo the layout for the shopping cart and checkout page, and changed the default behavior to something more usable for their customers. Besides making some of the changes they needed we have also consulted with them to help them to make the best decisions moving forward with their website in the most cost effective manner.
We have truly enjoyed working with Banarsi Designs and enjoy the randomness for the type of work that has been needed. From making changes to styling, to added new features via programming, or fixing bugs, its all fun to us and we love having them as a client.
"Unmelted has a strong team of web developers. Very professional, lightning fast turnaround on all of our projects, but most importantly outstanding quality of work that simply cannot be matched by anyone else we have ever worked with!" - Pavel Khaykin, Owner, Banarsi Designs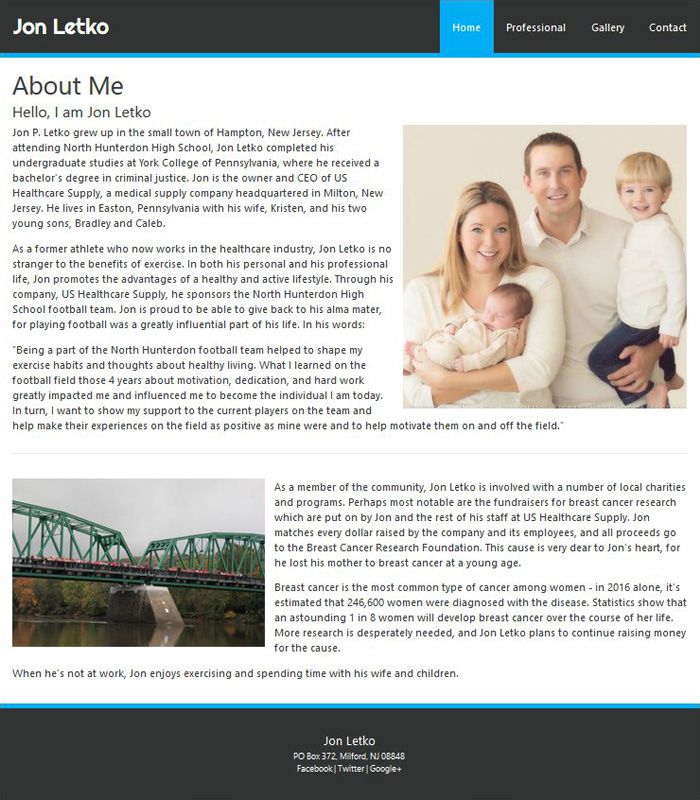 Jon Letko is the CEO of US Healthcare Supply which provides medical braces, diabetic testing supplies, and other durable medical equipment. He founded the company with the objective to provide patients with easy access to high quality medical equipment.
Jon continuously gets involved with local charities and programs to help the community where he is located. At a young age Jon lost his mother to breast cancer, so he is passionate about holding fundraisers and other events where the proceeds get sent to the Breast Cancer Research Foundation.
In 2016 Jon approached Unmelted to develop his own personal brand and website so that he could tell the world a little about his personal life including his family, how football set him up for healthy living, and how he got to where he is today.
The work we did for Letko was to start from scratch coming up with an idea to communicate information about his life. We created numerous mockups and iterations until finally settling on a minimalistic, clean design that puts more emphasis on the content instead of the design. The technology used on his website included: Laravel, jQuery, Bootstrap, and Sass.
Besides creating content that talks about him and US Healthcare Supply, we created a custom gallery page that showcases images of Jon Letko, his family, and co-workers. This was all done in a way that it is now fairly easy to continuously add more photos to his gallery without having to touch HTML. Simply upload the pictures, add any meta data to the configuration, and all of the thumbs and content are automatically generated on the gallery page.
Jon has been a wonderful client to work with, and we hope to continue to work with him in the future.