Our Website Properties
Here you will find a collection of some of our popular website properties that we own and operate.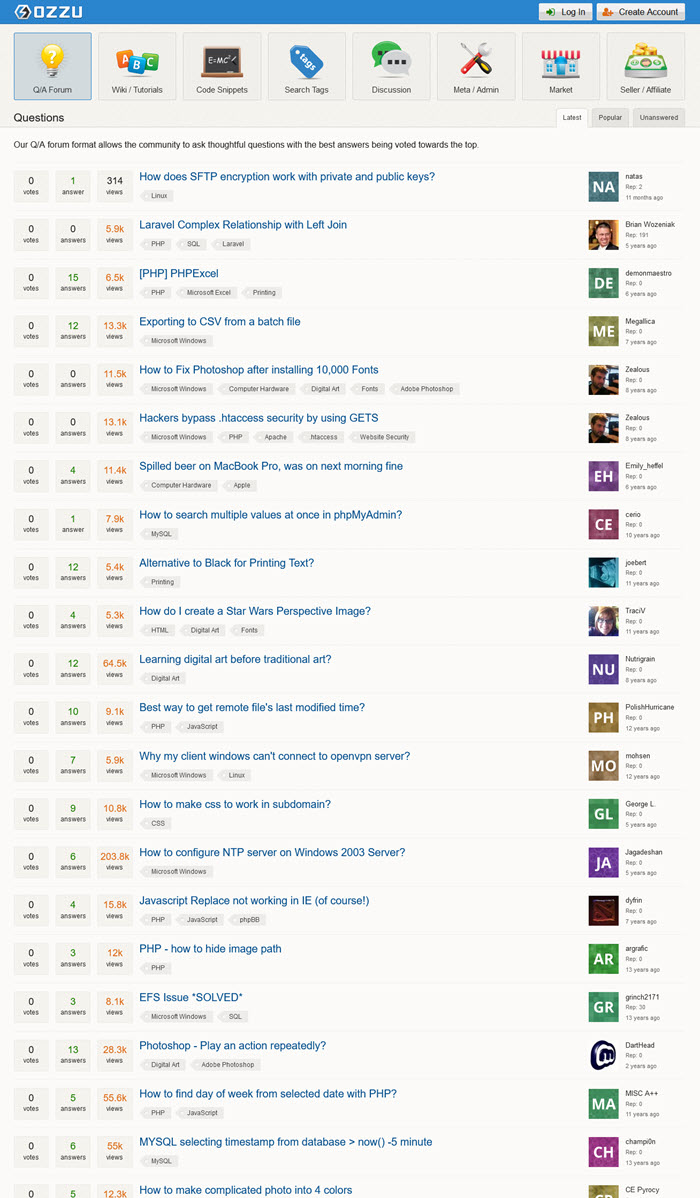 Ozzu is a resource hub targeted at webmasters, designers, programmers, developers, IT professionals, game creators, graphic artists, computer users, and anybody into technology. Our audience includes the average Joe, technology enthusiasts, business owners looking for resources to improve their web prescence, and professionals, many who are employed by Fortune 500 companies.
Our mission is to provide the technology and resources to allow people to work together to solve problems. From our community marketplaces where you can buy digital assets, to our discussions and Q&A forums that allow you to learn new skills, we want to be able to help you on every level to achieve your greatest.
Today our focus is on creating a website that is both engaging and useful to our visitors. Our goal is to be able to offer information, resources, tools, and more in a friendly manner that is fun and easy to use. We have a new version being developed and our goal is to simplify our design to make it easier and more logical to find areas that you need to reach, removing clutter that distracts you from getting what you want. With the ever increasing use of mobile devices, we are proud to say that this next version of Ozzu is responsive and will work everywhere.
Advertising
Ozzu offers banner advertising in a variety of formats including: 728x90 Leaderboard, 336x280 Large Rectangle, 160x600 Wide Skyscraper, and 200x90 Medium Button. We also allow advertising through the use of sticky threads in the forum, which is a regular post/thread that stays at the top of a forum category. Occassionally we send out sponsored e-mails to all of our members that you can also inquire about.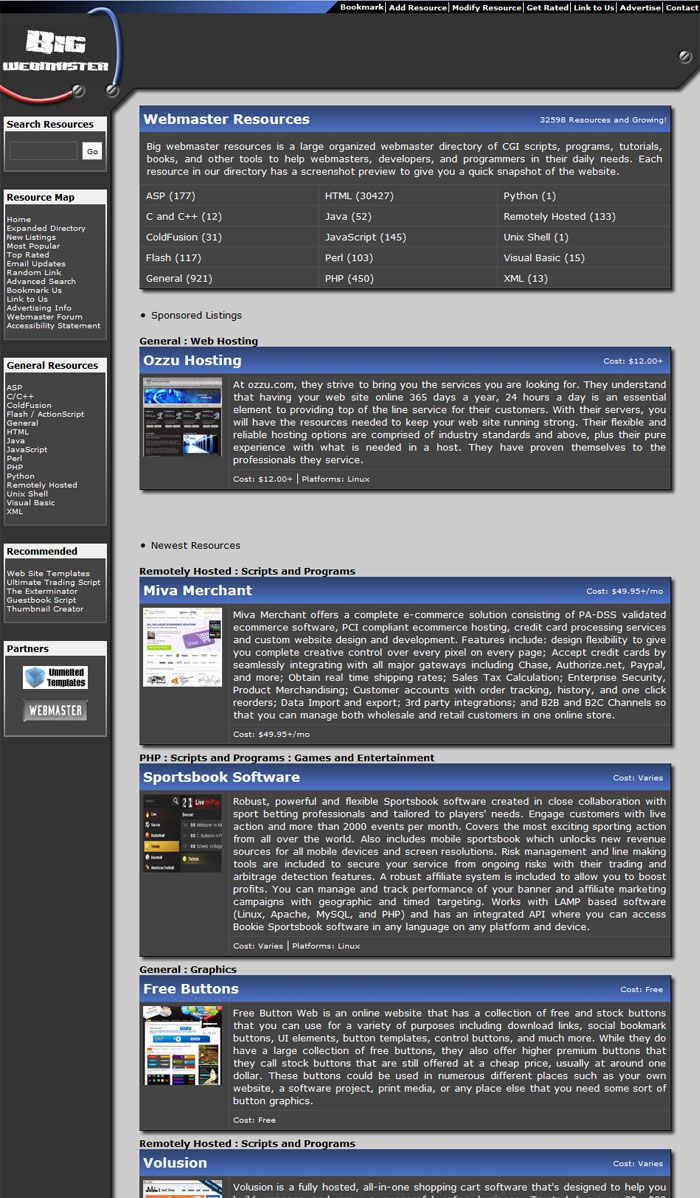 Bigwebmaster.com (Suspended)
Bigwebmaster resources was a large organized webmaster directory of CGI scripts, programs, tutorials, books, and other tools to help webmasters, developers, and programmers in their daily needs. Each resource in our directory has a screenshot preview to give you a quick snapshot of the resource or website.
Our mission at Bigwebmaster had been to create a directory of high quality resources being picky on who gets accepted into the directory. Many of the resource we have found have been submitting to us via our Add Resource form located on the website, but some of the resources we have found ourselves.
Due to the high number of submissions the website currently received, we were struggling to keep up with reviewing many of the pending resources. Due to this our focus has been on working towards redoing the website so that the community itself can help with this process of keeping high quality websites in the directory, while still accepting new sites. Our goal is to make this process rewarding and fun so that members will be willing to help out. We are also looking into automating as much as possible including the screenshot creation to reduce the burden it takes to have a listing approved.
Advertising
Bigwebmaster offered banner advertising in a variety of formats including: 468x60 Small Banner, and 336x280 Large Rectangle. If you were listed in our directory you could pay additional premiums to be featured on our home page, certain categories, or to have your resource listed above others in your category. You were also able pay to have your new listing submission expediated and reviewed within 7 days. This was highly recommended due to our backlog of resources waiting to be approved.